Tiffany M. Jones, DrPH, MPH
Evaluation Specialist IV
Quick Facts
14+ years of experience in program evaluation and qualitative and quantitative data analysis in public and population health

Serves as the lead evaluator for Karna's CDC project work with
DASH's Research Application and Evaluation Branch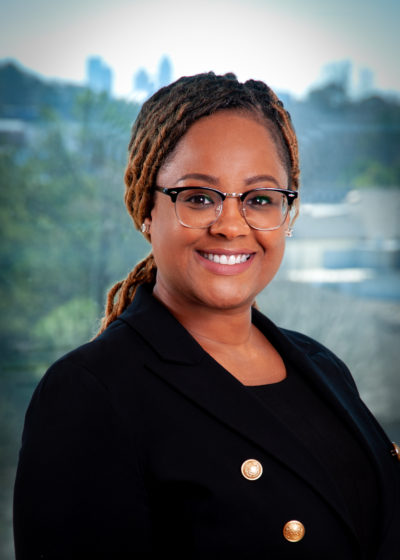 EXPERTISE
Disease Surveillance 

Electronic Health Records 

Epidemiologic Methods 

Epidemiology 

Evaluation & Assessment 

Focus Group Moderation 

Health Disparities 

Health Kiosks 

Literature Reviews 

Multi-Morbidity 

Organizational Assessments 

Program Evaluation 

Research Support 

Scientific And Medical Writing 

Social Determinants of Health 

Social Ecological Model 

• Statistical Analysis 
What's most important to me is how I can help others. My work and education have focused on my being as well-rounded as possible in order to help others achieve their goals. 
Dr. Jones joined Karna in October 2015 and has worked on various contracts and projects. She primarily supported DASH's Research Application and Evaluation Branch in developing and evaluating cooperative agreements using the Program Evaluation Research System. While supporting DASH, she worked on a number of projects across the CDC and other federal organizations, focusing on organizational assessments, program evaluations, qualitative and quantitative data analysis, focus group and expert panel moderation, one-on-one interviews, and report and presentation development. Her role has expanded into Population Health work, supporting health systems and clinics in Georgia in program and economic evaluation. 
Prior to joining Karna, Dr. Jones worked as a senior data analyst for the Institute for Cancer Care Innovation at the University of Texas MD Anderson Cancer Center. Her responsibilities there were concentrated on the costs of cancer care and piloting how to track patients' costs in real-time using administrative and claims data. She also focused on patients' perceptions of outcomes and information, and a highlight was observing focus groups of cancer patients describing their experiences at MD Anderson. 
Prior to her time at MD Anderson and before her doctoral work, Dr. Jones worked at Tulane University's Schools of Public Health and Medicine, focusing on the concept of self-rated health and how it could be used to predict healthcare expenditures. Their findings were published in Medical Care and presented at several conferences. 
Dr. Jones holds a Doctor of Public Health in Health Promotion and Behavioral Science from the University of Texas Health Science Center at Houston's School of Public Health, a Master of Public Health in Epidemiology from Tulane University's School of Public Health and Tropical Medicine, and a Bachelor of Science in Chemistry from Dillard University. 
PUBLICATION HIGHLIGHTS
Validity of Single-Item Screening for Limited Health Literacy in English and Spanish Speakers. American Journal of Public Health 
Defining the Value of Proton Therapy Using Time-Driven Activity-Based Costing 
Health Care Expenditure Prediction With a Single Item, Self-Rated Health Measure